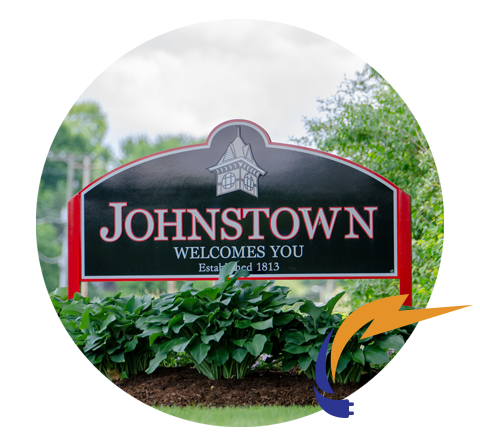 Service Area Locations
Johnstown, OH Electrical Repair, Maintenance & Installation
If you're searching for a local electrician in Johnstown, OH, we encourage you to trust us at Five Star Columbus Electrical to provide the residential and commercial electrical solutions you're looking for at an affordable rate. Our services include ceiling fan repair and installation, outlet additions, outlet installation, switch repair, whole-home generators, custom TV installation, lighting repair, LED lighting, garage light repair, and much more. We'd love to hear about your next electrical project. We offer Johnstown, Ohio home and business owners free online estimates.
If you recently purchased a new home, we suggest you scheduling an electrical inspection as soon as possible to ensure that your new home's electrical system is up to the current electrical code. Want more light in your office? Or, do you want to install USB outlets throughout your space? These are just a few possibilities when you choose Five Star.
Electrical Lighting, Wiring & Power Supply Services in Johnstown, OH
Johnstown has a population of around 5,300. This friendly Central Ohio village is located in Licking County. Currently, it is governed by a seven-member village council. The current Mayor of Johnstown is Charles "Chip" Dutcher. The village is the home of the historic William A. Ashbrook, a well-known American newspaper publisher, business leader, and Democratic politician.
Living in Johnstown is said to offer residents a dense suburban feel in a safe environment. Most residents of the village own their own homes. A lot families and young professionals live in Johnstown. The residents here are said to be mostly conservative. The public schools in Johnstown are above average.
If you have any sort of electrical need in Johnstown, Ohio, you need a local electrician that's state-licensed and fully insured. Whether it be for your home, business building, rental property or an apartment complex you manage, you need Five Star Columbus Electrical. Our expert electricians are highly-skilled and knowledgeable of all types of electrical components and electrical systems. We can handle any and all types of electrical work, whether you're installing a new breaker box or fuse panel, replacing electrical wiring or power outlets or need help with an electrical repair or electrical maintenance. As a member of the Five Star Family, we can help with all your home or building's needs. Our prices are fair and our experts are friendly as well.

Choose Five Star Columbus Electrical in Central Ohio
Don't risk taking on a DIY project when it comes to anything electrical. You should choose a quality electrician who is honest, licensed, fully insured, and who cares when it comes to electricity. The fact of the matter remains that when you need professional results, you need to choose a professional electrician.
At Five Star Columbus Electrical, we are here to spark your ideas! We are dedicated to excellence in electrical work, and we will stop at nothing to guarantee your satisfaction. When you choose a business that's part of the Five Star Home Services Family, you choose a local company that cares about your comfort and your budget We are invested in the Franklin County, Ohio area, and every dollar that goes to Five Star helps people rebuild their lives and find sustainable careers. Give us a call today at (614) 398-2988.